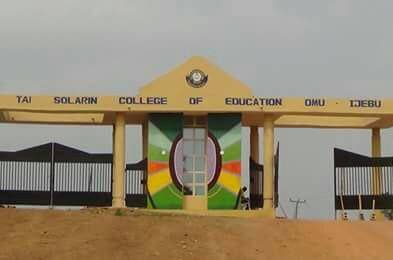 This is to inform the general public, particularly prospective candidates that the sales of admission forms into the 3 Years Full-Time NCE Programmes of the Tai Solarin College of Education, TASCE for the 2021/2022 academic session has commenced
AVAILABLE NCE Courses
1. Political Science/Economics
2. Political Science/Islamic Studies
3. Political Science/Christian Religious Studies
4. Political Science/History
5. Political Science/Social Studies
6. Economics/Mathematics
7. Economics/Social Studies
8. Economics/Geography
9. History/Christian Religious Studies
10. History/Social Studies
11. History/Islamic Studies
12. History /Political Science
13. CRS/Social/Studies
14. Social Studies/Christian Religious Studies
16. Social Studies/Islamic Studies
17. Geography/Mathematics
18. Geography/Social Studies
19. Geography/History
20. Geography/Political Science
21. Geography /Physics
22. Computer Science/Geography
23. Computer Science/Physics
24. Computer Science/Chemistry
25. Computer Science/Mathematics
26. Computer Science/Biology
27 Computer Science/Economics
28. Mathematics/Biology
29. Mathematics/Physics
30. Mathematics/Chemistry
31. Mathematics/Integrated Science
32. Biology/Integrated Science
33. Biology/Chemistry
34. Biology/Geography
35. Biology/Physics
36. Integrated Science/Geography
37. Physics/Chemistry
38. Chemistry/Geography
39. French/DM
40. French/Yoruba
41. French/Christian Religious Studies
42. English/Social Studies
43. French/History
44. French/Social Studies
52. Yoruba Language/History
53. Yoruba Language/Christian Religious Studies
54. Yoruba Language/French
55. Yoruba Language/Islamic Studies
56. English (Double Major)
57. English/Geography
58. English/Yoruba
59. English/History
59. English/Christian Religious studies
60. English/French
61. Arabic/Islamic Studies
62. Primary Education (PED) (Double Major)
63. Early Childhood and Care Education (Double Major)
64. Fine & Applied Arts (Double Major)
65. Home Economic (Double Major)
66. Agricultural Science (Double Major)
67. Physical &Health Education (Double Major)
68. Business Education (Double Major) Options in;
a) Business Studies
b) Accounting
c) Secretariat
69. Technical Education (Double Major) option in;
a) Automobile Technology
b) Building Technology
c) Electrical/ Electronic Technology
d) Metalwork Technology
e) Woodwork Technology

GENERAL ADMISSION REQUIREMENTS/ELIGIBILITY
Candidates seeking admission into full time programme as listed above must possess any of the following:-
(a) NECO/WASSCE/GCE'O'LEVEL with five (5) Credits passes at one or two sittings including English Language and Mathematics. Three of the Credit passes must be relevant to the course the candidate wishes to offer.
(b) Grade II Teacher's Certificate (TC II) with credit or merit passes in five subjects including English and Mathematics, three of which must be relevant to the course the candidate wishes to offer as his/her specialization.
(c) For candidates wishing to offer courses in Vocational and Technical Education, RSA or City and Guilds Intermediate Certificate, and the Federal Craft Training Certificate (FCTC) credit/merit passes in at least five subjects, are acceptable as qualifications.
(d) NABTEB Certificate with Five (5) credit passes at a sitting in relevant subjects
(e) Senior Arabic and Islamic Studies Certificate or Higher Arabic and Islamic Studies Certificate from a recognized institution with 5 Credit/Merit passes including English Language, is also acceptable.
USEFUL TIPS:
The following subjects are acceptable as entry requirements for Social Studies: Government, Economics, History, Commerce and Islamic Studies. Also credit in Government is acceptable in lieu of History for any course in History combination.

SPECIFIC ADMISSION REQUIREMENTS
a. FULL- TIME NCE PROGRAMME: This is available for candidates who scored minimum of 100 in JAMB and have minimum of five (5)credit passes at one or two sittings in relevant O ' Level subjects including Mathematics and English
b. NCE Foundation: is available for candidates who scored minimum of 100 in JAMB but have deficiencies in O ' Level results. Such candidates, upon the remediation of their deficiencies, having offered 100level courses at the foundation class, shall be eligible to transit to 200level of the NCE programme. The minimum requirement is 3credit passes and 2passes at not more than two sittings in O' level.
METHOD OF APPLICATION
Candidates are to visit:  https://my.tasce.edu.ng/admission/pros/dashboard.php? to begin application. A portal access fee of five thousand naira only (#5,000) payable with Master card or VISA ATM card (Please print out your receipt after payment)
1. Apply for the Admissions process by clicking "Click Here to Apply" button on an open Application
(Please fill the form correctly and supply a VALID EMAIL ADDRESS because an ACTIVATION LINK will be sent to the email address you provided)
If you have already Created and Activated your Account, Click here to Login with your Account Details:
Print a copy of the Application form and Screening Slip with the necessary information on it
2. Check your email Inbox (or Spam) for the Activation Link. Follow the link back to the Admission Portal.
(You MUST Activate your Account, to confirm the validity of your email address, before proceeding with the Application)
3. Once you are logged in to the Admission Portal, Click on the 'Pay Application Fee' to make your Online Payment with your ATM card
(You need to make the payment before filling the Application Form)
4. If your payment is APPROVED, go to the Payment History link to PRINT your Receipt. However, click on the 'Check Status' link to Update DECLINED or PENDING transactions.
5. Carefully fill the online Application Form with required information and upload necessary scanned Documents (PDF format only) and Passport
6. Confirm the information on the Application Form before Clicking on the Submit button. Once you submit the Application Form, you can not edit.
7. Print the Application form and check back later to Print the Screening Slip with the Screening date on it
DATE OF SCREENING:
Candidates will be required to appear for the Screening Exercise on a date to be communicated in due course by 8.am at the Admissions Office.